How to pack for a (very) long train journey?
I've packed my bags and I'm ready to go! My my main concerns in packing for my journey from Edinburgh to Hong Kong by train are that I can carry my bags myself easily, and that I have enough layers to keep warm in the Russian winter.
I'm used to travelling without too much luggage, and I've tried to pack light – I'm taking two bags on my journey – one larger (44 litre) rucksack, and one smaller daypack (20 litre). I'm aiming to do some laundry when I can so I don't have to pack too many clothes.
Matthew Woodward has a really useful guide on his blog on what to bring and what to leave behind on your Trans-Siberian adventure. I've used this as a starting point, with some additional bits and pieces that I thought would come in useful. I'll update this blogpost if there's things I think I missed or things that I find I don't need after all…
Packing for winter on the Trans-Siberian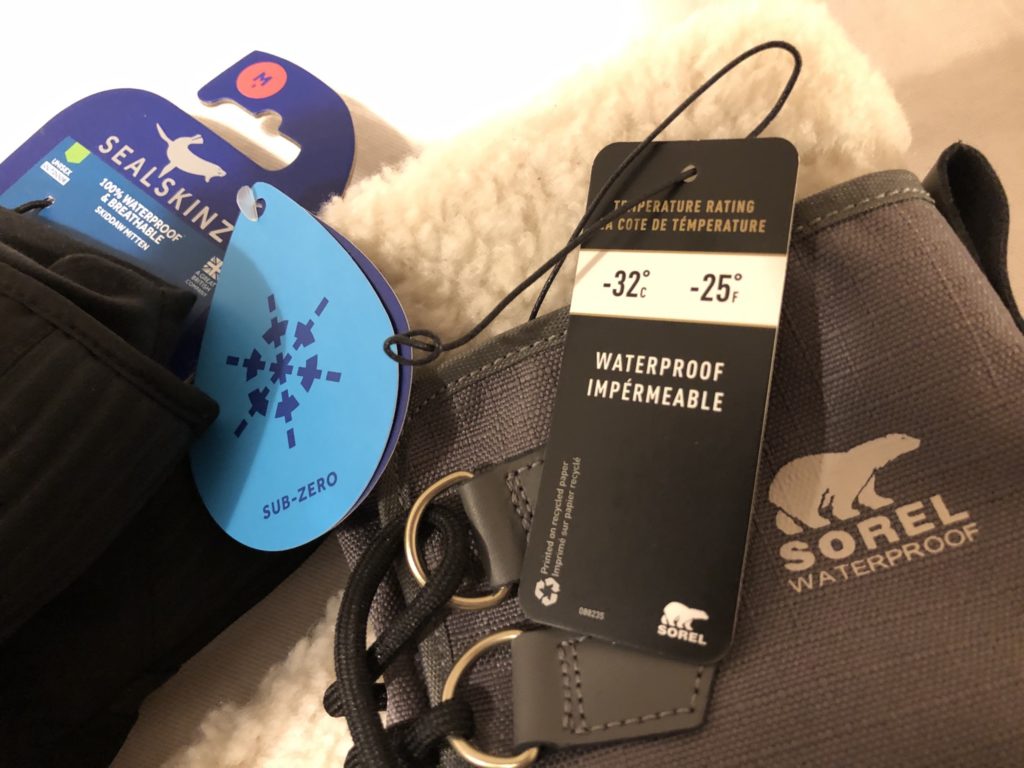 Keeping warm on the trains shouldn't be an issue – they're reported to be heated very well, flip flops and short sleeves should be ok for the train. But outside the train it's a different matter: the average low temperature in December in Yekaterinburg is -14°C, and a chilly -19°C in Irkutsk.
In Hong Kong, my final destination, the average high/low temperature in December is 20°C/15°C, that's a huge 39°C warmer than Irkutsk. How to pack for that kind of temperature difference?!
The answer? Layers…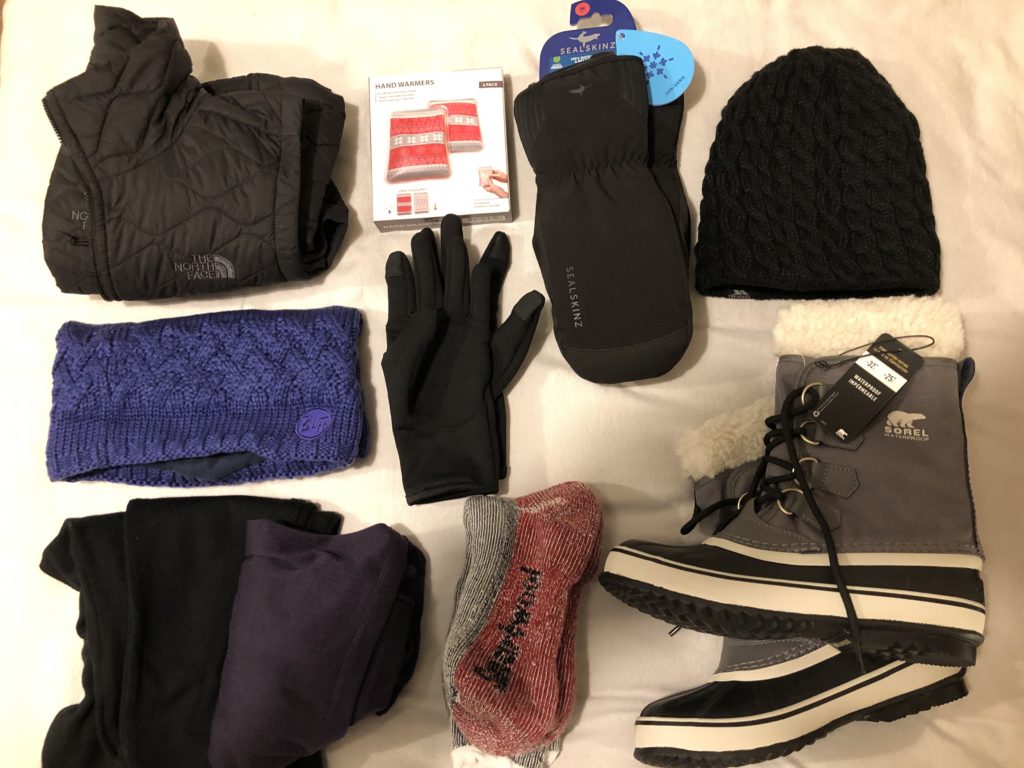 In addition to a fews dresses, t-shirts and jeans, I'm taking the following to wear for the winter weather in Siberia:
The most important thing: long warm padded coat (not pictured)
Padded gilet – North Face 'thermoball' claims it's as warm as down but packs smaller
Polar thermal neckwarmer (Buff)
Warm baselayer leggings and top(s)
Thermal socks (Smartwool)
A pair of touchscreen gloves, to wear under sub-zero mittens
A thick fleece-lined knitted hat
Snow boots (rated to -32°C)
Hand warmers
Ski trousers (not pictured)
I get very cold hands and feet as I suffer from Reynaud's so hopefully two pairs of gloves will be enough!
Practical items to take for the Trans-Siberian train journey
Some practical items to help make life a bit easier on the train:
Mug for tea/soup/noodles/porridge
Metal water bottle – for cooling down hot water from the samovar
Washing-up liquid
Battery pack, chargers and adapters
My bamboo cutlery set
Toilet roll
Hand sanitiser
Mini microfibre travel towel – towels aren't provided on the trains
Flip flops to wear on the train (not pictured)
Handkerchiefs (not pictured)
Sewing kit for essential repairs (not pictured)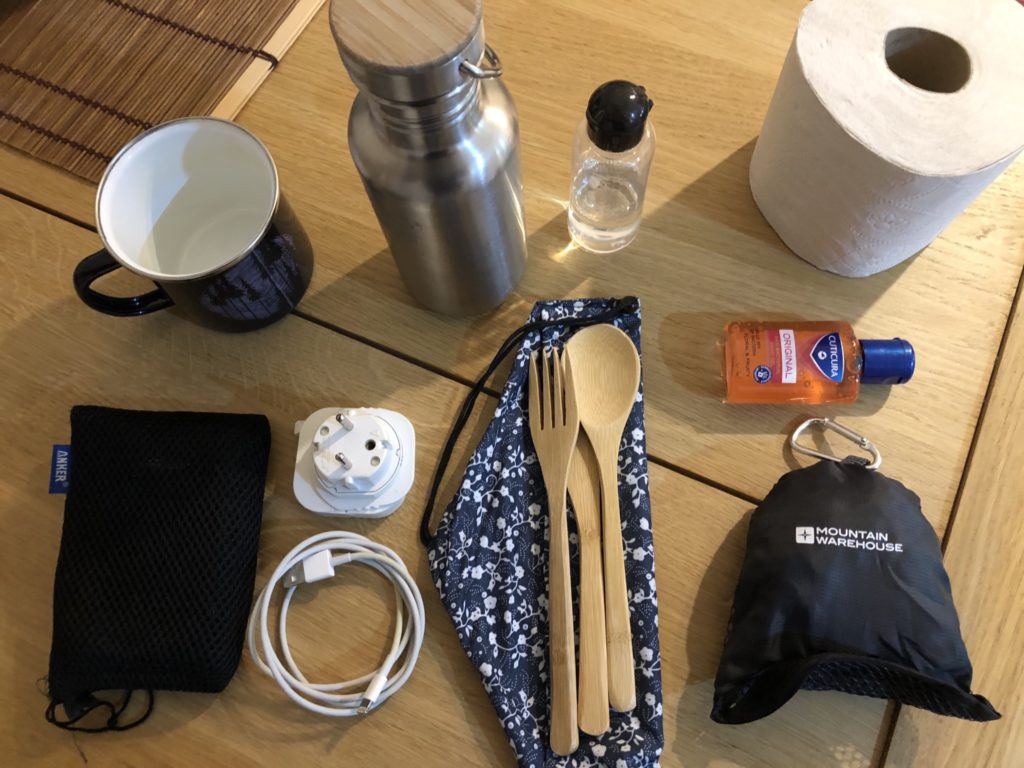 Some more useful items to pass the time on the journey:
Trans-Siberian Handbook
Russian phrase book (also, Google Translate app installed on my phone)
Playing cards
Camera and chargers
E-book reader and chargers
Notebook and pen (after taking this picture and packing my bag I decided to pack a much smaller notebook!)
Sunglasses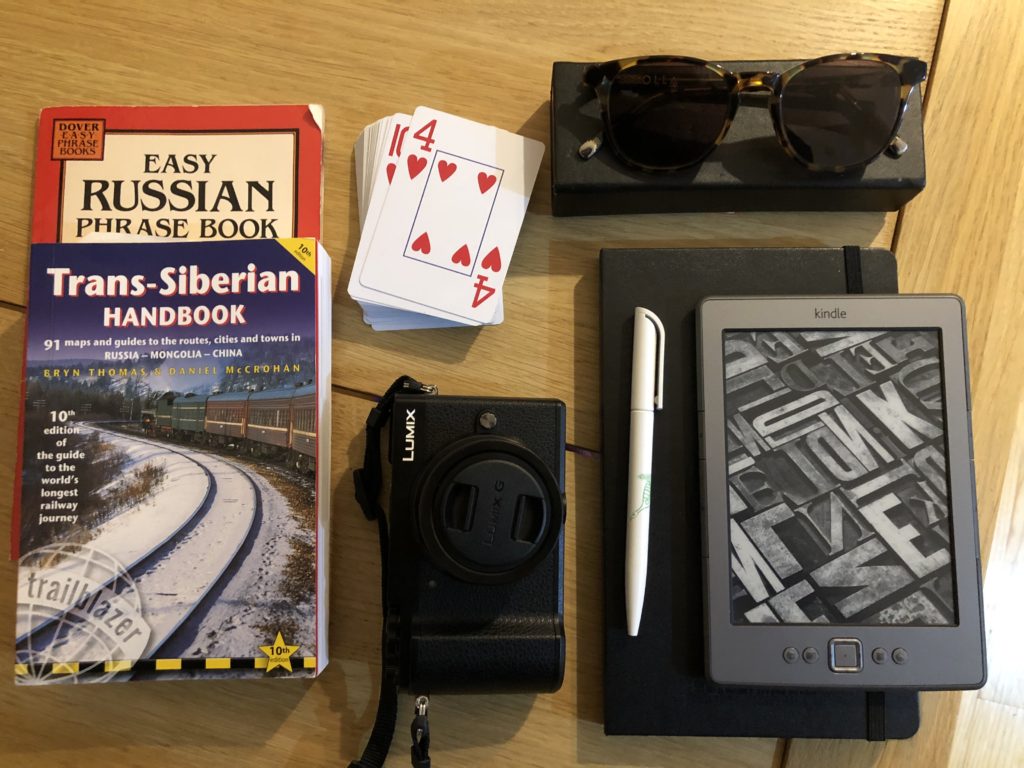 Toiletries for train travel
It's a common misconception that the Trans-Siberian is a luxury train – it's not. I'll be travelling first class but toilets are shared, and on most of the trains sinks are shared too. Of all the trains I'm taking only one has shower facilities (and that can't be relied on – "the supply of water can be very limited and in winter plumbing problems often cause minor floods").
In 'normal' life I try to avoid creating unnecessary waste – toiletries and wet wipes are some of the biggest sources of plastic waste, so before travelling I spent a ridiculously long time searching for 'biodegradable' (not plastic) wet wipes. Minimising the number of toiletries I'm taking in the first place hopefully helps reduce overall waste too.
'Biodegradable' wet wipes
Solid shampoo (can also be used as soap) in a tin
Solid deodorant
Hand/face cream
Medicines including imodium, indigestion tablets, paracetamol, ibuprofen
Toothbrush and toothpaste
Plasters and antiseptic cream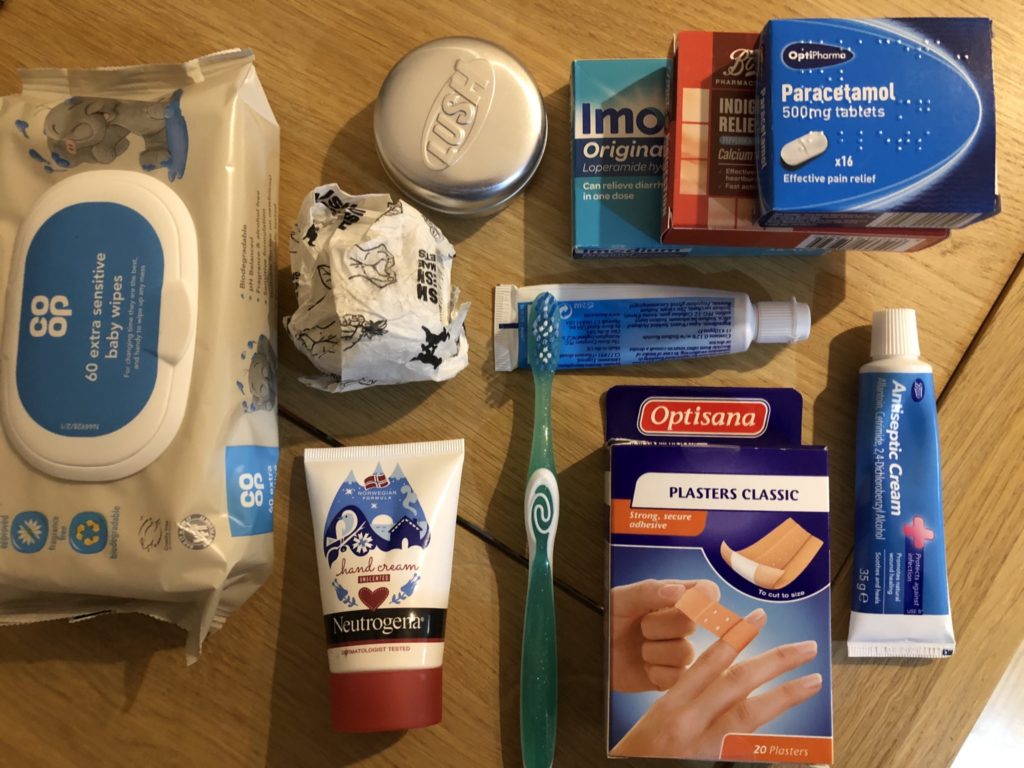 Snacks and food for the journey
All the trains have restaurant cars and I'm looking forward to eating in them! (And also negotiating the kiosk shops in the stations – described as like "an outside version of Argos, but without the catalogue"). As I'm travelling on a budget and on such a long journey, I'm taking snacks and some back-up meal options just in case.
Cup-a-soups, pasta, and porridge can all be made by adding hot water from the samovars provided on the Trans-Siberian and Trans-Mongolian trains.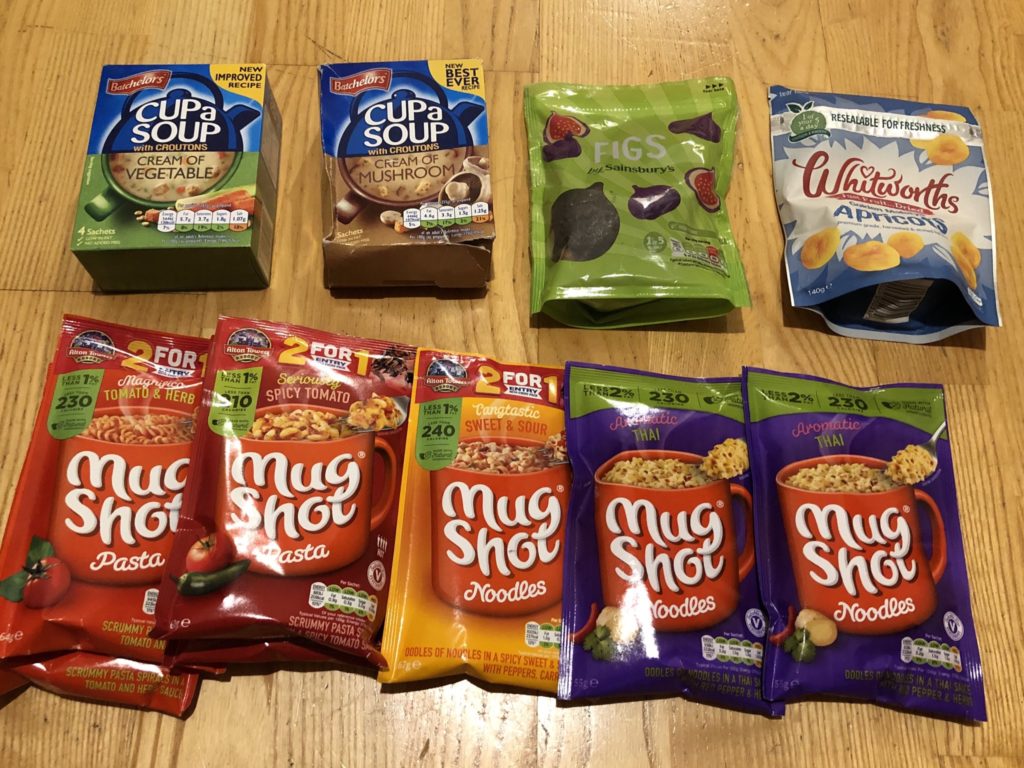 Dried fruit, cereal bars, tea, and coffee filters should allow me to eat some vaguely familiar foods when Russian/Chinese snacks get too overwhelming and/or in the times when the restaurant car is unavailable. I found this report quite amusing, where a traveller was served "a third of a Chunky KitKat for dessert" in the restaurant car!
Any thoughts or tips on packing? Anything I've missed? Let me know!