There are a myriad of different train routes to take between Edinburgh and Hong Kong. How to decide which way to go?!
My choice of which route to take was informed by:
how much does it cost
how long does it take
how many connections are there (fewer connections are easier with luggage and mean fewer connections to miss!)
how many nights on the train (I didn't want too many consecutive nights)
what places I'd like to see/stop over in
when do trains arrive/leave – on the Trans Mongolian and Trans Siberian sections some of the trains run at awkward times, or only run on certain days of the week

Edinburgh to Moscow by train

Starting out in Edinburgh the only way to connect with mainland Europe by train (if you don't want to catch a ferry) is to go to London and catch the Eurostar from London St Pancras. Edinburgh to London is a fairly straightforward and fast route along the UK East Coast main line.
To help plan the onward route from London to Moscow I used The Man in Seat 61 website – London to Russia.
The quickest route to Moscow by train from Western Europe is on the Paris to Moscow Express, so the first part of my journey is planned around that train. As the name of the train suggests, it departs from Paris, but I'm joining it in Berlin instead, because Deutsche Bahn's special discounted fares makes travelling via Berlin slightly cheaper than going via Paris.
Deutsche Bahn offers special "Sparpreis Europa" cheap fares from London to Germany (which include Eurostar tickets) from EUR 59.90.

Moscow to Beijing by train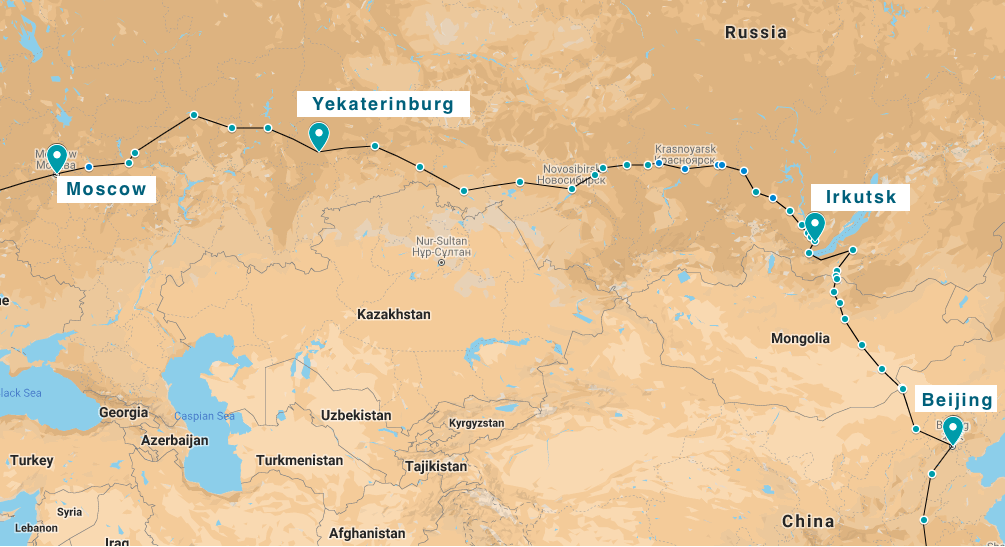 I used the Real Russia Trans Siberian railway journey planner to decide which route to take and where to stop off on the Trans Siberian/Trans Mongolian railway from Moscow to Beijing.
Planning tip: I knew I wanted to arrive in Beijing by Christmas Eve at the very latest so I worked backwards from that date, to see what stops I could make on the way and for how long.
The route from Moscow to Beijing follows the "Trans Siberian" Railway and "Trans Mongolian" Railway route. Both routes start out the same – Moscow to Irkutsk – but the Trans-Siberian route continues on eastwards to Vladivostok, whereas the Trans-Mongolian route turns south, through Mongolia, to Beijing.
Trans-Siberian railway route
For the first part of the journey I'll be travelling on Train #2, the Rossiya, which runs the Trans Siberian route every other day, starting in Moscow and terminating in Vladivostok in the Far East of Russia (although I'm only going as far as Irkutsk on this train).
I'll be stopping off on the way in Yekaterinburg and Irkutsk, to get the opportunity to explore a couple of cities on the Trans Siberian route. The stops also break up the journey a bit, so that I don't spend more than two nights on the train in a row.
Trans-Mongolian railway route
From Irkutsk to Beijing I'll go through Mongolia, on the Trans-Mongolian route, in the Chinese-run train number 004. I'm not stopping anywhere on the way in Mongolia.

Beijing to Hong Kong by high speed train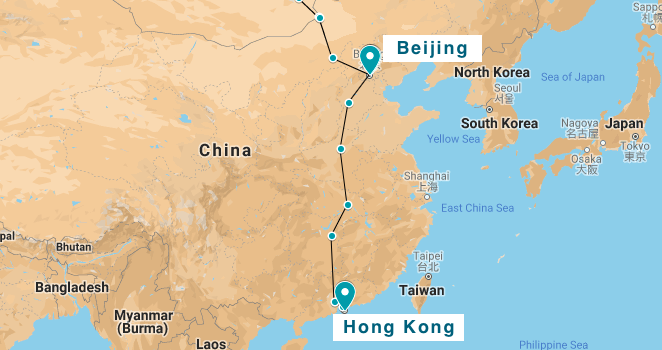 I'm taking the daytime high speed train from Beijing to Hong Kong, which takes just under 9 hours. There's also an overnight train between the two cities, but it takes 24 hours, so the high speed train is much quicker. All the details are on The Man in Seat 61 – Hong Kong to Beijing by train.